🌞
Family Holidays on Holbox Island: Discover the Ultimate Summer Adventure with Zomay!
🏖️🌴
Nestled on the serene shores of Holbox Island, Hotel Zomay offers families an unparalleled retreat. With a diverse range of activities and a prime beachfront location, your summer adventure begins here.
A Magical Place by the Sea
Hotel Zomay strongly believes in the healing power of nature. The serenity of the island, the sea breeze, and the welcoming sun invite you to reconnect with yourself and find peace. Come and experience this natural remedy at our true beachfront hotel on Holbox Island.
Advantages of Zomay for Families
Prime Location: 📍 At Hotel Zomay, we understand that location is crucial for a perfect vacation.
That's why we pride ourselves on being situated on the island's most peaceful beach. A paradisiacal corner where the blue of the sea blends with the golden sands, creating a unique natural setting.
Benefits of our location include:
Child Safety: The gentle waves and shallow depth of this part of the beach make it an ideal place for children to play, swim, and build sandcastles without worries.
Guaranteed Relaxation: For those parents or adults seeking a moment of serenity, this spot allows you to dive into a book, sunbathe, or simply gaze at the horizon, confident that the little ones are safe and close by.
Connection with Nature: Surrounded by native vegetation and with the chance to observe birds and other local wildlife, our location is not only beautiful but also educational.
Access to Activities: Despite our tranquility, we're not far from the action. The island's activities and excursions are just a short walk or ride away.
Magical Sunsets: Being in such a strategic location, guests can witness the sun bidding adieu every evening, painting the sky in shades of red and gold, creating the perfect backdrop for photos or simply ending the day with an unmatched view-
Family Activities: 🛶 From paddleboarding to horseback riding, we offer a diverse range of activities curated to ensure every family member has an unforgettable experience.
Family Rooms: 🛏️
Spacious and comfortable rooms equipped to ensure rest for every family member.
Room for Everyone: Our rooms are spacious, allowing each family member to have their own space. Be it a corner for reading, a play area, or a quiet spot for a restful nap.
Modern Equipment: We understand the importance of staying connected and entertained, so our rooms are equipped with flat-screen TVs, Wi-Fi connections, and other modern amenities.
Child-Focused Design: Safety plugs, rounded corners, and play areas. Everything is designed to ensure the little ones are safe and have fun.
Comfortable Beds: Beds are vital for a good rest. That's why we invest in high-quality mattresses and soft bedding, ensuring peaceful nights and energized mornings.
Cozy Ambiance: The decor and design of our family rooms reflect the essence of Holbox Island, creating a warm and inviting atmosphere that encourages relaxation.
Additional Facilities: Need a crib or an extra bed? Any other special requests? At Hotel Zomay, we strive to meet all your needs to make your stay perfect.
Indulgence is essential, and our way to embrace it is by savoring and nourishing ourselves with all things natural and wholesome.
Savor the Fusion: Local Meets Global at Zomay's Culinary Oasis.
Our restaurant-bar, a delightful haven under the cool shade of a palapa, stands as the culinary heart of Hotel Zomay. Here, the rich traditions of Mexican cuisine meet the vibrant flavors of international dishes, culminating in a fusion dining experience that's both unique and memorable.
Every dish pays tribute to our land and heritage. We strongly believe in honoring nature and prioritizing fresh, local ingredients. Each bite testifies to our dedication to sustainability and quality.
Dive into innovative taste sensations and enjoy the relaxed and welcoming atmosphere. At Hotel Zomay's restaurant-bar, we offer more than just meals; we invite you to a genuine flavor fest that respects and celebrates the diversity of our culinary heritage.
El Chiringuito: Savor Holbox Amidst White Sands and Golden Sunsets.
On the edge of the dazzling Holbox beach stands "El Chiringuito", a corner cherished by both visitors and locals alike. Here, the whisper of the waves and the caress of the sea breeze come together to craft an unparalleled atmosphere, and it's in this enchanting setting where true symphonies of flavor are unleashed. Each cocktail, from the refreshing Mojitos to our signature Mezcals, pays homage to the rich tropical palette, using juicy and authentic fruits in every mix.
But beyond the liquid delights, it's the backdrop that steals the show. Imagine indulging in these flavors as the sun dips below the horizon, painting the sky with shades of orange and violet. At "El Chiringuito", every visit becomes a sensory experience, leaving indelible marks of your journey through Holbox.
🔍What family activities does Zomay offer?
A: From kayaking to horseback riding, we offer a plethora of activities tailored for families.
🔍 Is the beach safe for children?
A: Absolutely! Our location on the island's most tranquil beach makes it safe and ideal for children to play.
🔍 Are there family-sized rooms available?
Yes! Our family rooms are spacious, comfortable, and equipped to ensure a restful stay for every family member.
Latest news and events in Zomay Holbox.
Stay up to date with the latest news.
¡Descubre las maravillas de Isla Holbox! 🌴 ¡La guía completa de atracciones te espera para un viaje inolvidable! 💫
Explora la biodiversidad única de Yum Balam y maravíllate con sus tesoros naturales 🌿 Descubre más aquí!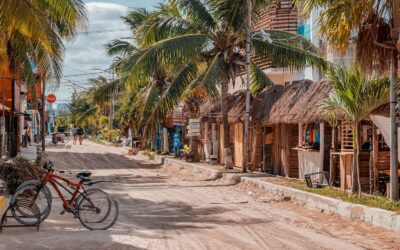 Welcome to Holbox! Discover the hidden paradise in the Caribbean. 🏝️ If you're searching for a paradisiacal destination in the Mexican Caribbean, look no further, Holbox is the perfect place for you! This small island located in the state of Quintana Roo is renowned...
Avenida Pedro Joaquín Coldwell s/ número, 77310 Holbox, Quintana Roo. Mexico
Avenida Pedro Joaquín Coldwell s/ número, 77310 Holbox, Quintana Roo. Mexico
Follow us on the networks